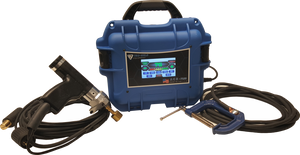 The Best Insulation Pin Welder on the Planet!
Only 10.2 Lbs - Compare to our competition at 18 lbs!
Click here to view the new TWI CD Stud Welders!
The ACE-P100 incorporates the latest technology into a compact, rugged, and portable CD pin welder. With an updated user interface and new system design, this unit has the capacity to weld pins up to 10-gauge and CD studs up to #10 FASTER THAN EVER.

ACE-P100 Spec Sheet
ACE-P100 Welder Manual
Features/Included
NEW FEATURE— Intuitive Touchscreen Interface with Preset values for fast, accurate, and repeatable weld settings.
NEW FEATURE— Set-Point Discharge: Unit discharges directly to a new set point without needing to discharge completely.
NEW FEATURE— Universal Input Voltage: Plug and play, no need to re-tap the machine for 110V or 220V input voltages.
NEW FEATURE— Low input voltage capability enables operation with long extension cords.
NEW FEATURE— Contact and Trigger Indicators for fast troubleshooting of hand tool and weld cable maintenance issues.
NEW FEATURE— Thermal and Voltage protection indicators to protect the unit from damage due to overheating or poor input powerIncreased airflow for improved efficiency and duty cycle.
Rigid internal construction eliminates the possibility of components coming loose during rough handling or operations.
The ACE-P100 pin welder is mounted in a rugged outer case for greater durability and appearance.
ACE-P100 Specifications
Size/Dimension:
12.5" L x 10.1" W x 6.0" H 318mm x 257mm x 152mm
Weight: 10.2 lbs. (Excluding Hand Tool and Cables)
Weld Range: Weld Pins - Up to 10 gauge, CD Studs - up to #10
Duty Cycle: 15-30 studs per minute
Primary Power: 85-250 VAC, 1.5-.5A, 50/60Hz
10A Fast Acting Fuse
Charge Voltage: 35-100 VDC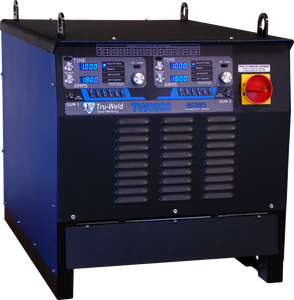 Introducing the New Line of Drawn Arc Stud Welders from Tru-Weld Equipment!
Tru-Weld Equipment keeps moving forward and is now offering a new line of equipment with awesome improvements to an already stellar stud welder.  For sale now, and with Free Shipping with discount code Stud!
New - Customizable Presets
New - Supervisor Lockout
New - Indoor and Outdoor Display Brightness Adjustment
New - Continuity Indicator to Diagnose Control Cable Problems.
New - Pro-Tech'd Gun Circuitry - NO MORE BLOWN FUSES!